The menu carries the offers for the customers in general, but it is something more than just a carrier. It involves, and it sells. One can use it for more than one purpose. But for it to function, one needs to make it look versatile from every perspective. And, above all, it should be changed and edited now and then. The adjustment in the content, as well as the design, is inevitable, especially when customers want to see things on a fresh basis. The menu planning needs attention and regular intervals. Menu planner templates can therefore be used to meet the goals of menu editing.
One can use a range of multiple templates to design a menu in different ways. It will also let one plan the menu in relation to the needs. A template can be tried in multiple situations and entirely different ways.
Types of planner menu templates
The planner menu templates can be found in a variety of designs. It is easy to apply them in multiple menu developments or editing scenarios. One can plan, refresh and edit the menu using these templates. Here you can see a fine collection of these versatile templates.
#1 – Elegant Restaurant Menu
Elegance is required at top brands, and these beautiful templates can be applied to plan or edit the restaurant menus. Tell you what; they are not only useful for hotels or restaurants but can also be tried by the banquet halls. Weddings, birthdays, and even dinner parties require elegant menus, and this is where you can fit them.
#2 – Thanksgiving Party Menu
Thanksgiving is a matter of routine in general, especially for professional people. And, that always requires using an excellent menu to serve the guest with honor. It is good to cook something extraordinary, but it is always good to let people choose from the menu. A printable thanksgiving menu template can prove very useful in all such scenarios.
#3 – Colorful Kids Weekly Meal Menu for School Lunch
Elders are not the only people that love to eat outside, but it is also true about the kids. Kids love to eat their favorite dishes when they are served with an exciting menu; they are very likely to pick one from each segment. It is good to segment even the menu, and carving a colorful one for the kids can prove useful.
#4 – Drink Menu
Food is not the only thing most restaurants or food spots offer. They can also serve one with the drink. The drink menu template can be seen as one of the best menu planner templates for the food spots. One can offer drink in a variety of flavors by organizing the menu to perfection. A menu will carry all the offers comprehensively.
#5 – Pizza Menu Card Design
Fast-food chains are also constantly searching for ways to edit their menus. A few are looking for a striking menu, while a few want to plan aggressively. The pizza menu template planner can help every single entity that wants to carve a menu out of scratch.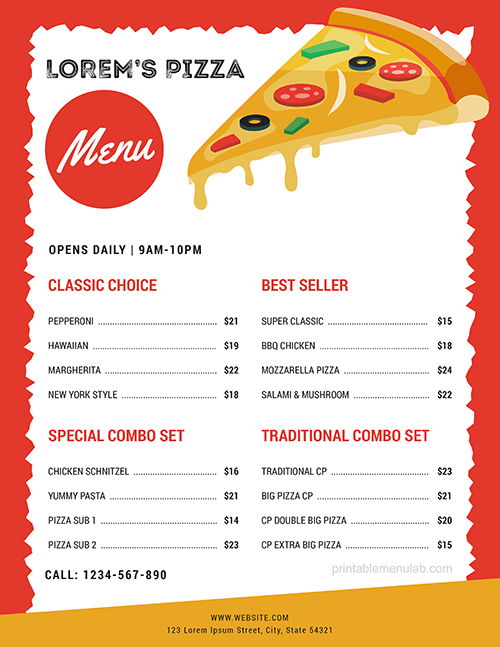 Download Free Menu Planner Templates
The menu planner below helps you plan your healthy meals. With the help of these menu planners, you can plan a weekly or a monthly menus efficiently; with the help of these planners, you know what to cook every day. Each template has more space for you to write. You can easily plan breakfast, lunch, and dinner menus without any hassle. Download printable menu planner templates and use them to track your menus and calories.
#6 – Blank Weekly Meal Menu Planner
#7 – Healthy Diet Menu Planner
#8 – 5 Days Healthy Breakfast Menu Planner
#9 – Weekly Meal Planner
#10 – Monthly Meal Menu Planner