Awesome Seafood Menu Template Ideas - FREE MS Word
Seafood is food for many around the globe, but for the suppliers, it is a business. This is why billions of dollars are spent on the search, collection, packing, and distribution of seafood around the globe. It does not end here as restaurateurs are used to adding more delicious flavors to add even more value to the seafood. It is all about innovation and adding value to the vegetables and meat when we talk about restaurants, but it can easily be taken as the art when we talk about the seafood food chains. They are exceptional in their dishes and class. All the successful entities are persistent with change and innovation.
They keep inventing new dishes and keep giving new tastes to the food items they offer. It is that innovation that makes restaurateurs succeed. The seafood menu templates might be vital at hotels, but even vital is what you have to offer. However, a menu is the only thing to portray your offers.
Download Seafood Menu Templates
Give your seafood menu book an awesome look by choosing, downloading and using any of the following SeaFood Menu Templates.

#1 - Seafood Menu
#2 - Seafood Restaurant Menu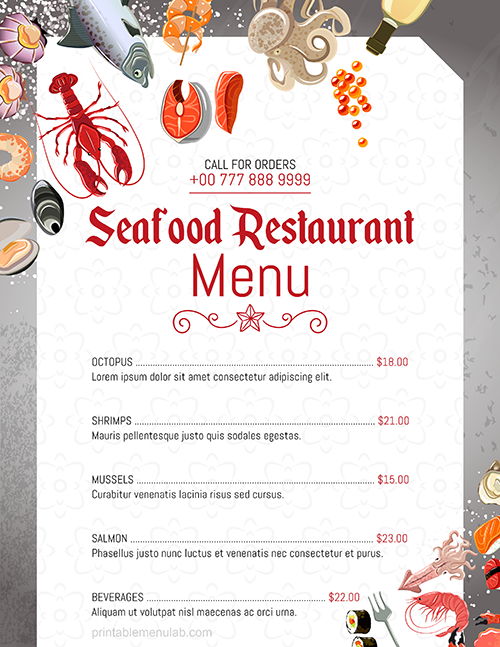 #3 - Seafood Dishes
#4 - Fish and Chips Shop Menu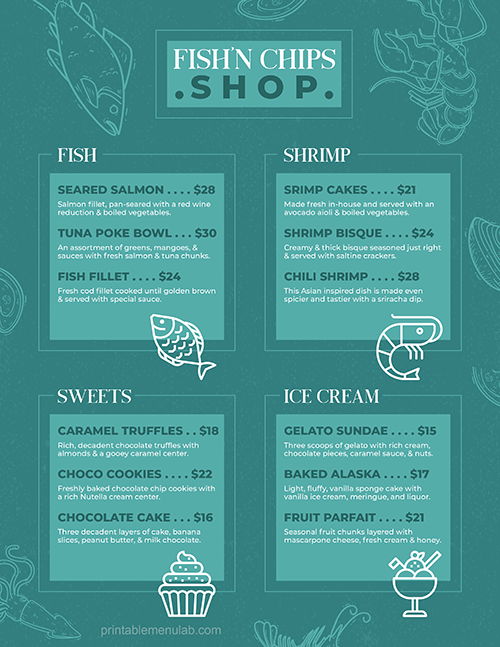 #5 - Christmas Seafood Menu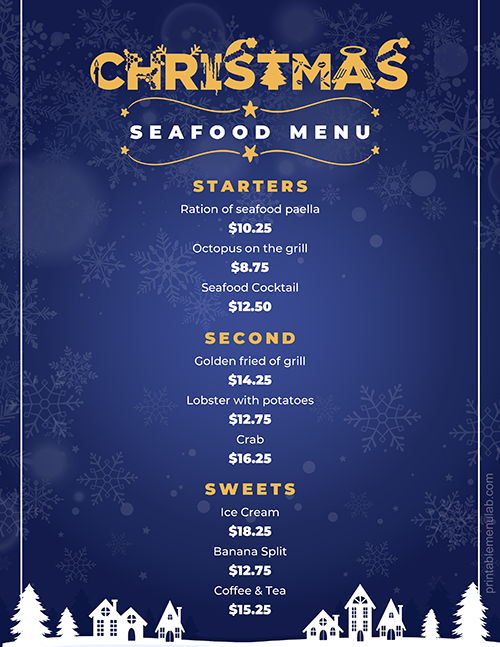 Why menu matter at seafood chains?
A hotel menu is not just a matter of presenting dishes and the price to serve a client with a substantial amount of information. It should rather be taken as a tool for effective business communication. The seafood menu templates can be used to pursue potential buyers. Customers can be lured with the tastiest items on the list, while you can sell more of your items by bundling them into useful items. It just depends on the presentation of details on the menu for it to take effect in your favor. A well-plotted data can surely help you sell more of your products besides delivering valuable information.
Steps involved in making a seafood menu
Every seafood menu will be carved to serve hotels besides offering details about the dishes. Hence, it is vital to bring all necessary details to catch the eye of the customer.
Highlight the best deal right upfront
Innovation done in the kitchen should be communicated to the public. It is imperative to highlight all the best deals right on the first page of your seafood menu. The best must be not only ones that are best in taste but also the famous dishes. And, the ones that are rightly priced for the public.
Try to differentiate your offers
Remember, a menu is not a piece of paper but your chance to take your business to the next level. You can differentiate your offers by highlighting how you are different from the other entities. This section will throw light on your specialties and specific services that differentiate your business from the rest.
Use vibrant colors and high-resolution images
High-resolution images of the dishes can give an idea about how beautifully you handle the delicate seafood. It will help a food lover in making quick decisions on the table. All good seafood menu templates will come with content shaded bright. One can use vibrant colors and shades to make things look even intriguing.