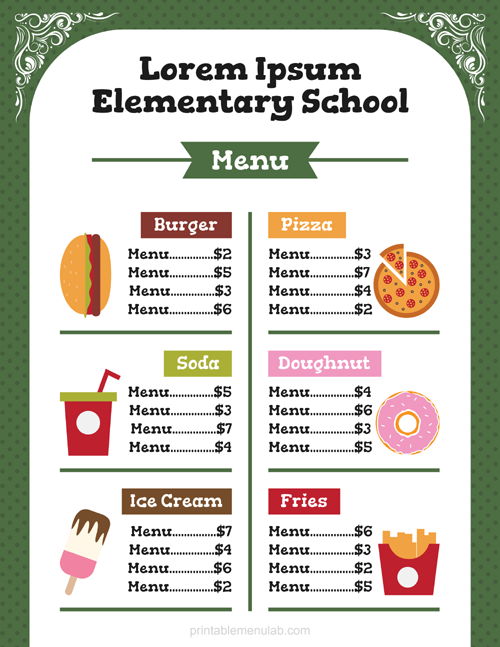 Version
Download

36

File Size

1.38 MB

File Count

1

Create Date

May 20, 2021

Last Updated

May 22, 2021
Download Editable Elementary School Menu Format in MS Word
Elements of a school lunch menu template
Every school menu is supposed to consist of some vital sections. Just like all other food menus around us, a school menu will also follow the standard format. The food items, respective pictures and, the relative price are likely to remain on the leaflets designed as menus.
Name and logo of the school
Identity comes first, even in the case of a food menu. A school food menu will always carry the school name and logo on top of the menu. All school lunch menu designs and templates come with space for the school name and logo. It adds value to a general-looking food menu and makes it look authentic and valuable. It is usually added on the cover page and remains part of the back page of the leaflet. Many food menu design carries the details of the official entity.
Sections and categories
Every school menu design will offer details about different categories of food being provided at a canteen or dining hall. It will break the offers into the form of categories and subcategories. Students are likely to order different foods on different days, and a menu needs to carry all the details in order to facilitate them in the ordering. Adding necessary sections makes a food menu look beneficial for the reader.
List of menu items
Standard school lunch menu templates and designs are used to carry the items in the form of lists. These lists are available under a specific category of every food item that is available for servings. The list of menu items helps students in the decision-making and is helpful in order processing. The waiters can pick and process an order in a quick time if the menu items are correctly listed.
Price lists
All good food menu will offer a price against every single item. A menu is likely to contain offers, but the price makes an offer look useful on a menu.
Photos of the food items
Some school menu templates carry the item names, while others will offer pictures of the food items to make them look even enjoyable. Students find it fancy to work with a menu with pictures.