Free 10+ Diet/Meal Planner Menu Templates
Food is necessary for every living one living around us. It is vital for all of us as well, but we need to take a specific portion of a range of foods to keep healthy. The health factor is associated with taking a good diet all the time. A healthy diet comes from natural sources and is organic in nature. Unhealthy food consists of processed food and the diet range that comes from inorganic sources. Although natural food sources are taken as healthy but still, you cannot take all of them all the time.
You may like to eat beef and mutton more often, but your lifestyle may not allow you to take the heavy portions of those kinds of meat. Similarly, too much fat and sugar, even if they are coming from natural and organic sources, is not suitable for health at all. Unfortunately, a few people tend to eat as per their taste instead of eating healthy, and that's what leads to unhealthy outcomes. This is where diet menus come into the act and help people restore health.
Diet menu planner templates allow one to take the right portion of certain food at the right time. They are useful in shedding weight and returning to a normal and healthy life. Tell you what; the diet charts developed by the smart people are not only used to restore health but are also good in keeping healthy. One can avoid unhealthy food, extra calories, or unwanted fat by using the diet menus. They can also help take the right portion of minerals and vitamins while taking only a certain amount of a particular food.
Tips for making good use of the Meal Planner Menu
The diet/meal planner menu can deliver value to the people but only when they are properly used. This is why it is so good to understand and follow the proper routine mentioned in the menu. You can set your goals and can then try to meet those goals by following the pet routine.
It is vital to know that it is not always the diet menu that matters but also other factors. Sometimes people tend to lose weight but keep skipping the exercises at the same time. This is when diet alone cannot just help. The following tips can help make good use of the diet menu templates.
Make sure you are taking the portions of food in the amounts mentioned in your diet chart. A minimal change in a specific food item can lead to different results.

Set a goal, and then try to evaluate your menu in relation to that goal. If everything goes according to plan, then you are likely to meet your goal. But if you still fail to meet the set objectives, then it is good to analyze the diet chart.

Be flexible with your drawn lines. You should leave space for the adjustment in your diet chart. All diet menu charts are flexible in nature and allow their users to make timely adjustments.

Keep an eye on your health conditions, and never forget to consult the physician if it becomes necessary.
#1 - 4 Week Healthy Diet Menu Planner
#2 - 1000 Calorie Diet Menu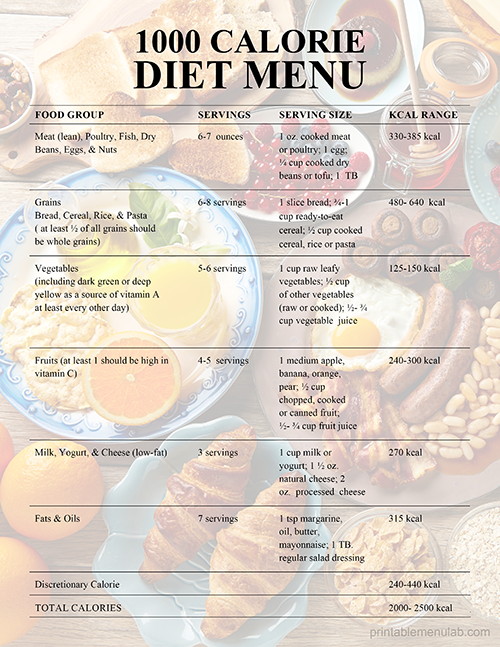 #3 - Meal Planner Menu for a Week
#4 - 1200 Calorie Meal Planner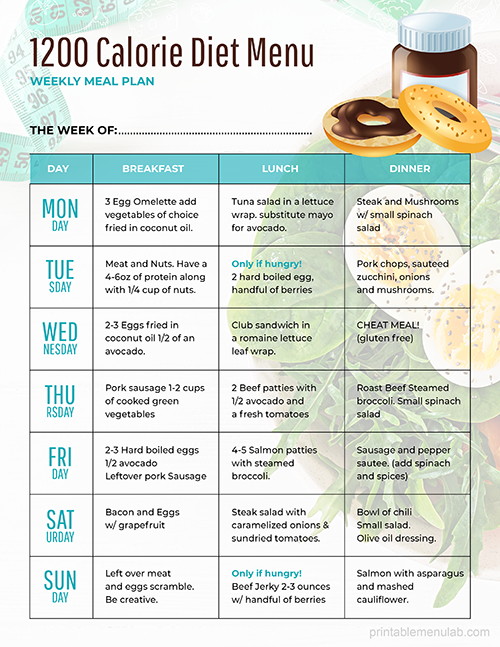 #5 - Low Carb Meal Planner Menu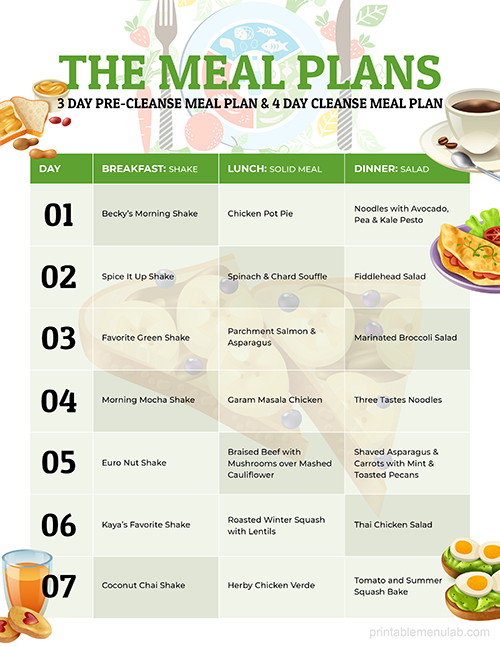 #6 - 1500 Calorie Diet Meal Plan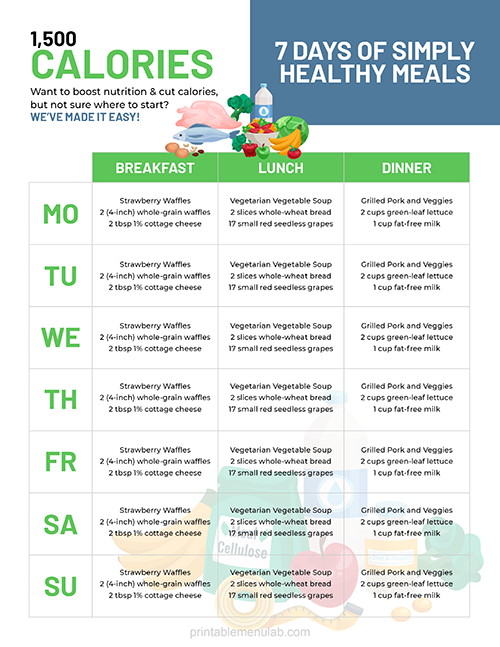 #7 - Diet Menu for Women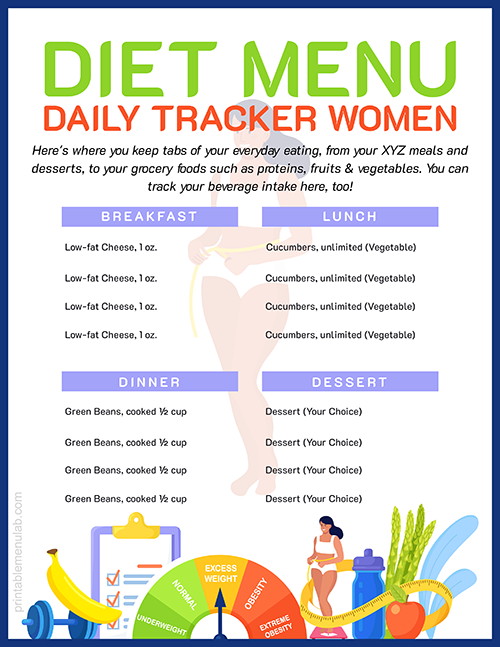 #8 - 1800 Calorie Meal Plan
#9 - Weekly Diet Meal Plan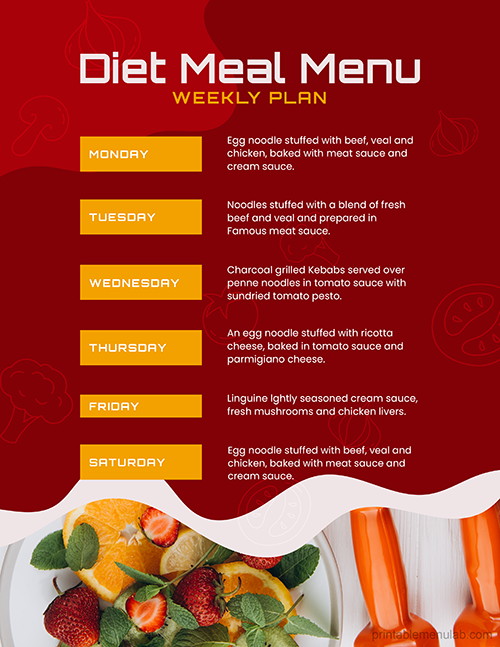 #10 - 7-Day Diet Meal Plan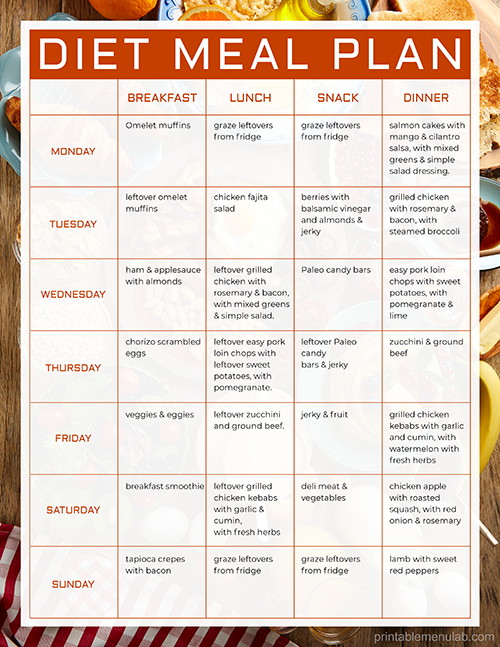 #11 - Diet Meal Planner IDEA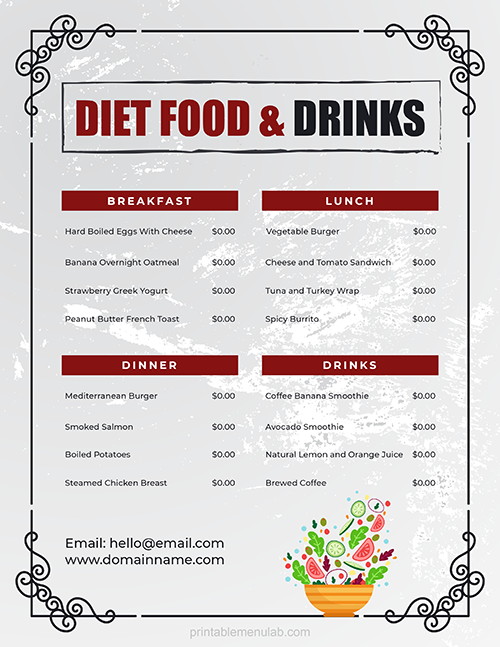 Creating a Personalized Diet Chart
A personalized diet chart is valuable for everyone. It is good to develop one for a baby while it is equally useful for a growing teenager. Similarly, young working men and women can plan their diet according to the menu to meet their daily dose of necessary elements. A few people are used to focusing on calories and fat alone while ignoring the elements necessary for the body.
This had to be avoided by consulting a nutritionist or studying the food value of every item you add to your daily diet menu. You can adopt some smart measures to ensure that your diet chart is helping you meet the body's needs. Here is how you can do it at home.
Calculate the calories
Calorie requirements vary from person to person as the lifestyle and age group vary. This is why one should calculate the calories right up front, as it is the basic thing to consider while designing a diet chart. One can make an adjustment in the menu items when one is clear about the calorie intake. All diet menu templates revolve around calories.
Take care of your taste
It may be recommended by the doctor for a few to take only a certain type of diet in a certain set of scenarios. But it is not always desirable as most of the people designing diet menus are in good health and can eat a range of food items. Hence, if you are enjoying good health, then you can surely go on to add multiple items you like to your dining table.
Add every food item that matters
You cannot get everything from fish; therefore, you will have to add a salad and whole grain food items as well. It is always good to define the daily doses of all necessary vitamins and minerals so that one should be able to add every single food item that matters. Different food items are rich in different necessary elements. And the diet menu, therefore, should have every food that offers something of value.
Plan according to the time
The menu had to be planned according to the time. It should offer details into the days, weeks and months. One can make it editable so that any kind of adjustments becomes easier to be made as and when is required. Time-based diet menu templates are considered more valuable than the ones developed only on the basis of the food items.
Every diet menu is meant to meet a specific need
The diet menu templates are designed for general purpose. But, generally, they revolve around meeting a specific need. Sometimes, doctors request people to follow a certain diet for a certain time to restore health. Similarly, on other occasions, people are either losing or gaining weight. This is why it is so vital to design a diet menu right in accordance with the need of the hour.