Menu List Templates in MS Word to Glorify Your Menu Book
The first thing you are likely to come across at a hotel or dining place will always be a menu. The menu carries the details about the dishes or food items that are available for you. The menu list templates are not only designed to serve people at hotels but also during parties. The parties arranged in routine are bound to offer something edible in refreshments or dinner. The menu lists are designed in such scenarios to support individuals at work. The menus are designed in multiple scenarios, and the design will thus remain dependent on the occasion's requirements. Every menu is somewhat similar in design, but a few features can be added or omitted as per need of the hour.
Download Menu List Templates for MS Word
Scroll down to view and download some beautifully designed Menu List Templates. All of these are available in Microsoft Word Format.
#1 - Catering Menu List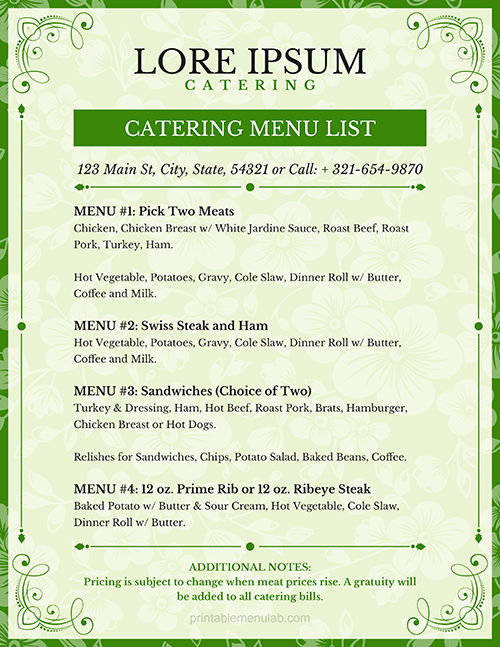 #2 - One Page Food Menu List
#3 - Lunch Menu List Design
#4 - Restaurant Menu List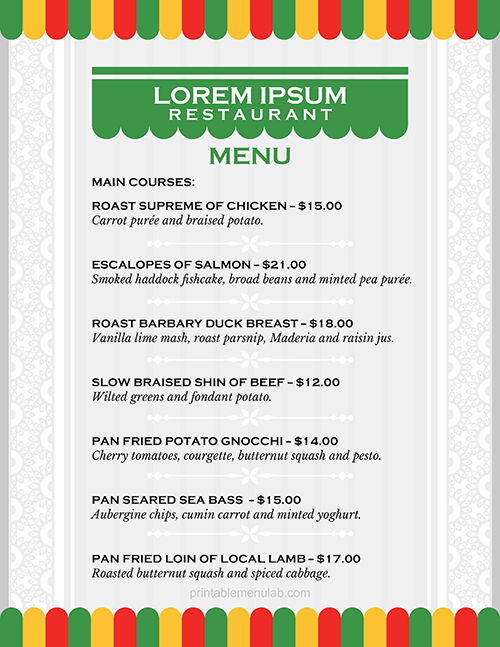 #5 - Wine Menu List - Beverage Menu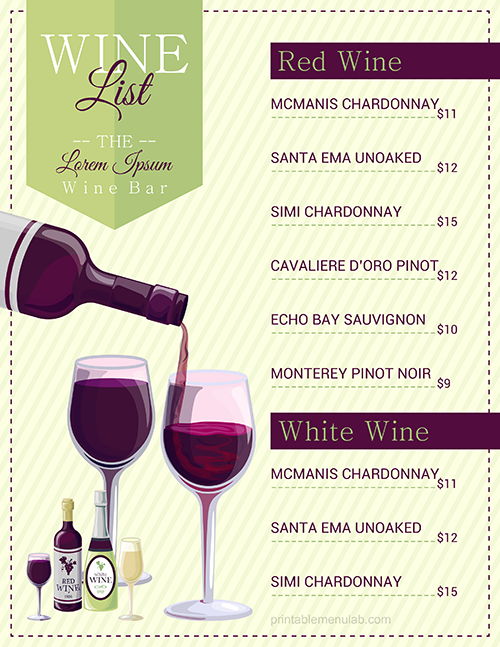 How many types of menu lists are designed?
A menu is designed for multiple occasions and in various ways. It can be a wedding poster, a chalkboard menu, a canteen list, or a classy restaurant menu. Blank food menu list templates are also used in scenarios that are not that specific in nature. People can arrange a blank food menu to use on multiple occasions. Café and catering menu are other common types of menu lists developed around us. The menu lists also accompany birthdays, Thanksgiving, and other similar sorts of parties.
How to create a menu list?
A menu list is relatively easy to create when you are told about the food items and the program timetable. The menu is not always developed to keep people work with a pertinent timetable. But in specific scenarios, one requires conveying the time of the dinner or party. The color scheme and content of the template will also be selected in accordance with the occasion. The necessary items to be added are then sorted as per the program plan.
Although a menu list will be created the same way for both entities, a formal list will always vary from the one used for personal use. An organizational logo and a little more fine details will be required to develop a menu for an organization. You can, however, try the following options to develop appropriate menus.
Printable menu list template
A printable and editable menu template is always an excellent option when it comes to developing a real-time menu. An editable template requires nothing but putting the values and starts working as a menu straight away.
Menu planning tools
Menu planning software is now ready to assist you in the development of such stencils. It is easy to carve a menu by using these tools and software. They will offer tools as well as readymade sketches to help you develop a menu list.
Try handing over the task to a graphic designer
You can also hand over your task to a professional graphic designer if you are not acquainted with the readymade samples. It might just incur you a considerable amount of money, but you will get what you want in the end. It is, however, necessary to tell the details to the developer for proper template development.