The restaurants plan for all the good things when they launch a business. They plan for the building, cooking range, and furniture. The expert chefs are hired for the best taste and blend of the ingredients. But an often-ignored fact is that there are tools that also come into the act the moment you plan to launch a restaurant like takeout menu. Some tools are awesome in helping you interact with the public, while others let you develop a better PR. Public relations may depend on multiple factors, but a better-devised visiting card can work in certain instances.
Similarly, a follow-up call or an email can also help develop rapport while rendering satisfaction to the clients. The menus are vital for every hotel and restaurant but are graded as imperative when we talk about take-out cafes and hotels. The take-out menus are sales agents or waiters that not only deliver the information but also help sell in a better way.
In certain instances, a restaurant cannot just interact with a prospect, but by designing the best take-out menu, one can make an interaction with every prospect. It will not only deliver the details required by a customer but also will convince one to buy a certain range of items.
Download Takeaway Menu Template for MS Word
Do not underestimate ever the impact of a menu, especially when you are dealing with take-out scenarios. Remember, your takeaway menu is the first thing that introduces your business to the customer. Now imagine wrapping the information in golden text with a dark brown background or offering details in yellow font with white background. Tell you what; your layout, text, and presentation of the detailed matters help make a desirable impact.
You can just win deals and can develop a good brand image by using takeout menu templates. A captivating menu can strike big time. It can bring the outcomes that one can only imagine from an employee. But for it to make an impact, you need to focus on the design and the content of a takeout menu.
#1 – Takeout Menu for a Bakery
#2 – For BBQ
#3 – Takeout Menu for a Restaurant
#4 – For Bold-Cafe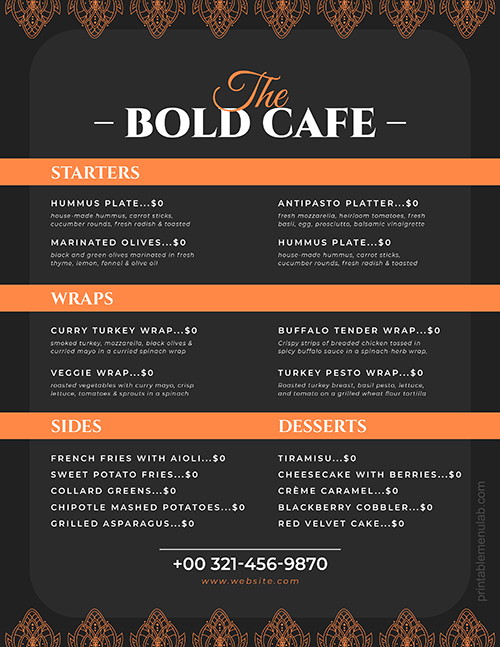 #5 – For Breakfast
#6 – For Buffet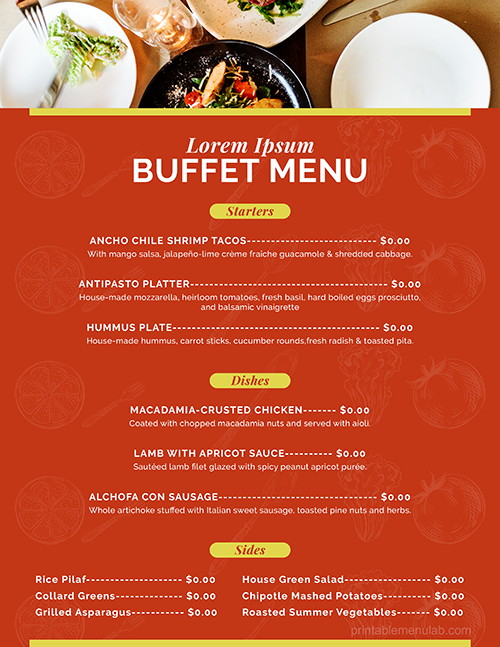 #7 – For a Burger Shop
#8 – Takeout Menu for a Café
#9 – For a Catering Business
#10 – For Chinese Cuisine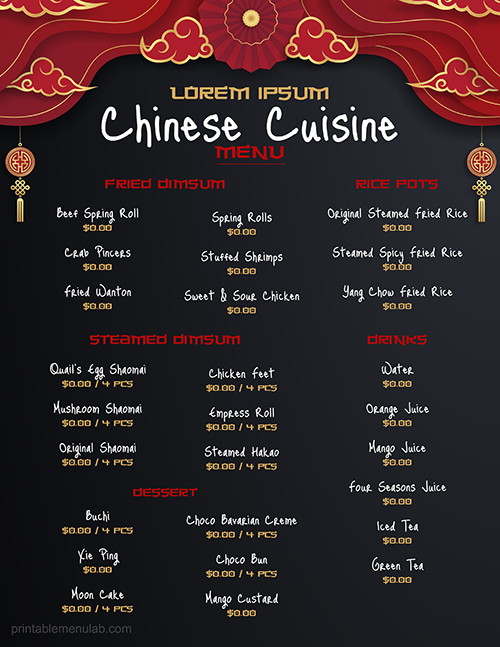 #11 – For Country Club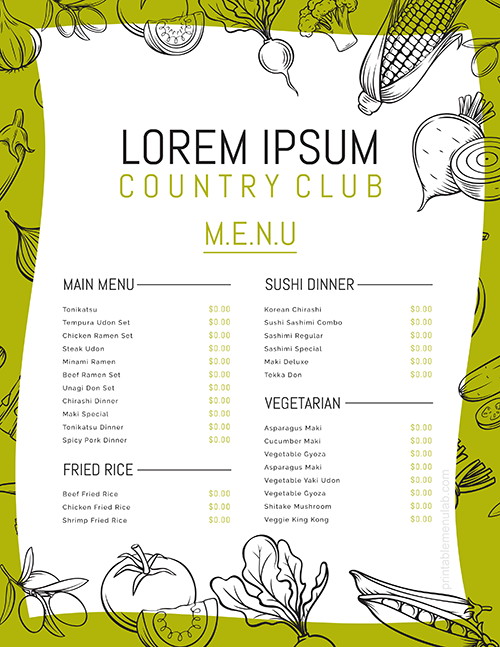 #12 – Takeout Menu for Dinner
#13 – Hotdog Takeout Menu IDEA
#14 – For Hotel
#15 – Italian Takeout Menu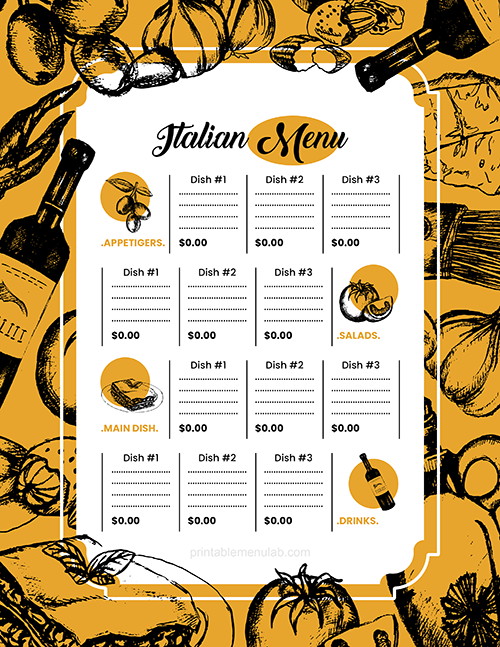 #16 – For Lunch
#17 – Mexican Takeout Menu
#18 – For Pizza Shop
#19 – For Seafood
#20 – Takeout Menu for a Sports Bar
The Art of Designing a Fascinating Takeout Menu
It is not the menu that matters, but rather is the art of designing a take-out menu that matters the most. You can just deliver the information with a menu or a pamphlet or can even confuse your customers by offering some complex details in an intriguing manner. But it is good to know that you can build a brand image and can also sell directly with a properly developed menu. Here is how you can do it.
Plan the content
You might just have been looking to add the dishes and the prices to get the primary job done. But designing a menu merely for delivering the basic information is not what you should only try to get out of a menu. Your takeout menu must be able to address all the basic needs of your business. It must act like a sales agent or a waiter and be able to deliver all the relevant details. It can even convince a buyer of a particular food and can also introduce your brand to the market. But you will have to plan the content of the menu in order to get all the good outcomes.
Planning the content of the menu involves discussing and planning the text of the menu. You must add details like brand name and logo and try to use the color that best represents or matches your brand. People will start developing the know-how of your business once they start interacting with the takeout menu templates.
Use decorative frames to frame the unique dishes
You are always offering different dishes for different times of the day and also for different levels of consumption. Similarly, there exist deals and unique dishes that need to be communicated in a special way. So what will you do to manage all that content? You will definitely require doing some content and graphics management to settle things up.
You can highlight all the special dishes in your takeout menu templates by using frames and borders. The decorative frames will not only highlight your dishes but also will help sell more of the special items. You can do it with the dishes and deals offered on all those dishes.
Design different sections for different dishes
Menu space management and distribution of information is an art that needs to be practiced for the best outcomes. One cannot just add every low-price item on the first page by pushing all the special items to the last page. Similarly, it will be irrational to mix the deserts with the meat section.
The fast food, if it is a part of your offers, must occupy a separate section in your takeout menu templates. A wise distribution of the food items on the menu will not only let your customers decide quickly about their desired items but also will help sell more items. You can promote specific food items when all of them are available in a single bracket.
Add photos where required
Photos can make an impact, especially when the final picture of a food item helps gain an idea about the quality of cooking. All smart takeout menu templates tend to explain the dishes and food quality with the relevant images. It provides prospects with the final picture of what they are going to order for their dinner. Photos can even induce a decision-making process in the mind of a prospect, especially when one cannot resist one's favorite food. The food images act as a source of information required by the mind to decide the taste of a specific food item.
Explain the prices
It might sound a bit ridiculous, but by explaining prices, you can sell more of your products. But the point is how you can answer the question of why a specific dish is priced at a special price. The answer is simple; your takeout menu templates must offer details into the ingredients used or the specificity of a dish before leading a customer to the price tag. One can be convinced about the price by offering all the good details.