6+ FREE Customizable Hotel Menu Templates
Hotels are the business entities that are used to serve customers with goods and services. This is probably something that provides an added advantage to the hotel owners. They can sell their products in different packages covered with a specific set of services. It is possible to price the items as per the package and associated services. One can make marvels by simply making good use of the hotel menu templates.
The hotel menus are used to meet the customers sometimes even before the waiter approaches them. The menus can be taken as the silent sellers for a hotel. This is why they are given due value nowadays and are designed with great care and caution. Tell you what; you can make good use of the menu cards if you succeed in designing your offers in a specific manner.
Download Hotel Menu Templates - MS Word
Download below 6 amaizing menu templates specially designed for Hotels.
#1 - Hotel Breakfast Menu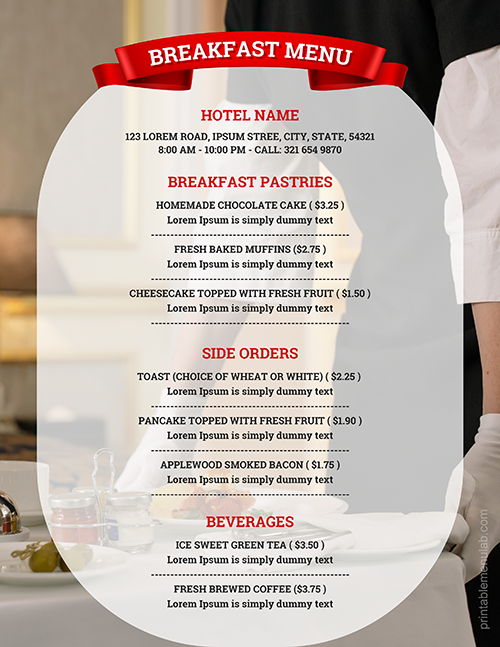 #2 - Hotel Catering Menu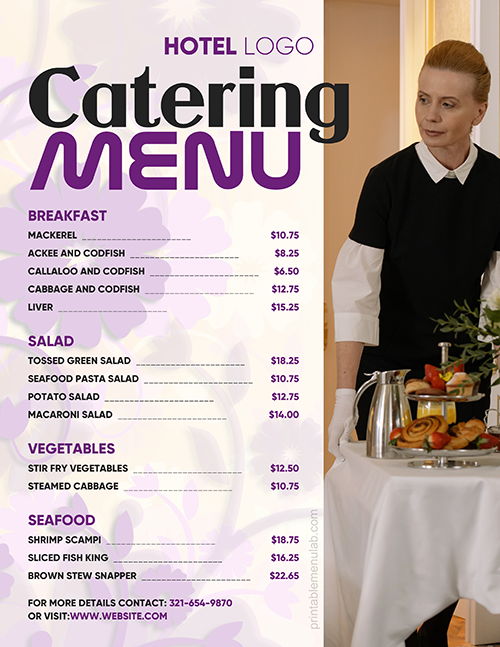 #3 - Hotel Christmas Menu
#4 - Hotel Dinner Menu
#5 - Hotel Room Service Menu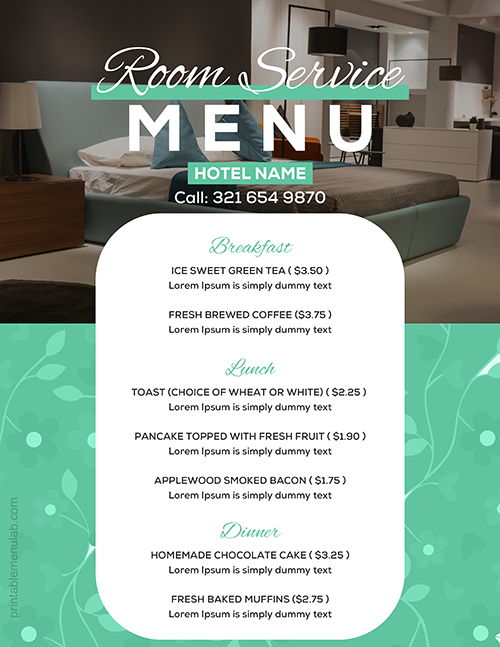 #6 - General Hotel Menu
How to design the best hotel menu?
It is easy to place the dishes in specific categories and mention the respective prices when it comes to a menu design. But you can do more with a menu when you know how to make it look helpful for the sales staff. It is vital to add the marketing input into the menu in order to make them look like silent sales agents. Yes, they can surely sell for you if developed with a definite plan.
Decide on the folds
Different hotels are used to design different kinds of menus and thus are used to select a different number of folds. A single page, two-fold, or tri-folded menu can be tried in different scenarios. The ice-cream parlors may be contented with a single-page menu. But it is not going to serve the hotels offering multiple dishes coupled with a variety of services. This is when one should try double or triple folds.
Choose a theme and the color scheme
Remember using the colors that enhance appetite is the first thing hotels are used to look for in their menus. But one can also go with the chocolate black or even the dull black color if it can present your content in a classic style. Many hotels are used to pick a dark brown background coupled with white content. It catches attention and proves more explanatory.
Select a content strategy
Even the best of the designs and the most attractive themes will prove ineffective if the content is poorly placed on the hotel menu. A fair distribution of the content and the addition of the right content in each section will ensure effective communication. This is why it is so vital to design a strategy for all of the hotel menu templates.
Make it look selling
Remember, all the effort is done to promote sales. All hotel menu templates are designed to capture the attention of the buyers. Hence, every reasonable effort should be made to make it look "selling" from every perspective. A selling hotel menu template will be appealing, captivating, and involving. It must never look boring and difficult to navigate through in any case. It should always be eye-catching and involving.