Free Catering Menu Templates with Pricing for MS Word
A catering business is quite common around us just because of high demand. But that never means you are not going to face the competition, or you never really require getting competitive in your deals. Remaining focused and competitive is the order of the day for all modern businesses as a whole lot of entities are around to serve the single niche. It demands precision and accuracy in the offers and deals. One needs to use every tool with care and caution. If you have a catering business, you must be aware of the demand for everything on the menu. We have got a solution for you in the form of free printable catering menu templates available here in Word format.
Why Catering Menu is so Useful?
As a business unit, an entity should always be looking for ways to enhance customer engagement. Not all business entities are so lucky, but caterers are always lucky to have a tool we all take as the menu. A catering menu allows business entities to make interactions with the customer even without speaking a single word. You need not hire special sales staff as a good menu will serve the purpose. This is why catering menu templates are carved with care.
#1 - Classic Catering Food Menu
#2 - Catering Services Menu
#3 - Catering Party Menu
#4 - Catering Food Menu Design with Delivery Services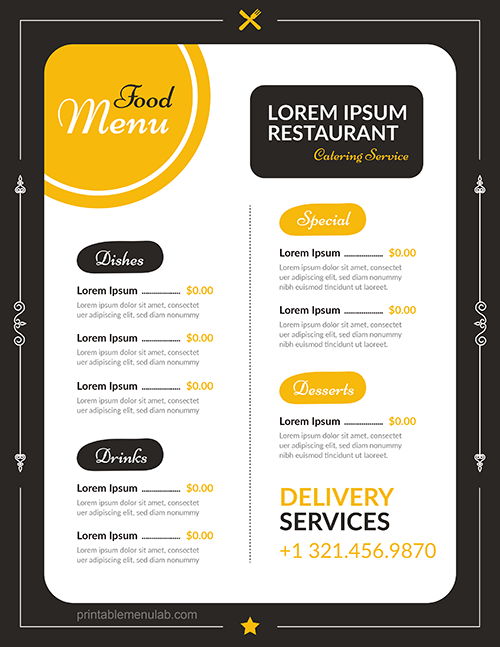 #5 - Wedding Catering Menu
Scaling a catering menu in real-time
You can scale everything about your catering menu by developing a workable plan for this stencil. It is easy to do when you know what to do. The entire development is also described below for a proper understanding.
Sort your menu items first
You might have an excellent idea about the design but jumping to the design right at the start will demand editing the draft on multiple occasions. You can, however, try to sort the menu items to move step by step towards the final draft. You can list all items at this step.
Split your list into sections
You can add as many sections as you want by just splitting your main list. It is just like adding subheadings into the main titles. For example, if you have added drinks, appetizers, salads, and meals to the list, it's time to add more details. You can split the drinks by adding different drink categories. And, the same practice can be done with other list sections.
Once you have carved the list and added the sections by spreading it, it's time to do menu engineering. Menu engineering will give real shape to the catering menu templates. You can design your layout at this phase, and it is easy to do if you are creative about your designs. Consider keeping the customer interaction in mind while looking to develop the draft for your menu.
You can go with your plans if you know how to design a catering menu perfectly. But using a menu maker or a template is always good if you want to leave absolutely no room for errors and omissions. The catering menu templates can make menu drafting look like an easy task. They will serve you with a well-designed layout to help you come up with a gorgeous design. At this page you can download a free catering menu template with a Pricing column in Microsoft Word format.
Once you are sure about your design and content, you can proceed to the printing process after proofreading.