Free Salon Menu Card Templates for MS Word
At this page, you can download 5 beautifully designed Salon Menu card templates in Microsoft Word Formats. Create a salon menu card for your or your client's shop in minutes using the following free templates. We will provide more information in this article that how anyone can download, design, and edit salon menu card templates for their own salon business.
Beautification has become vital in this age. It was necessary to dress up well and pour some perfume before leaving the homes. But it has gone a little further in the times when technology-aided salons have started to serve the customers in a specific manner. Beauty is easy to attain nowadays as you can tone your skin and quickly clear any scars that might diminish the beauty in your look.
Why salon menus are vital
It is not a matter of recovery or toning at all as people are getting to the salons for regular adornment. Not to speak of professional people, it has become common even among the youth and elderly. Since beautification is everyone's right, it is good to add more offers to the list to attract more customers. The salon menu templates are meant to allure people with the offers they dream to avail themselves of at a salon. The spa and salons of this era are trying to consolidate on every single aspect in order to succeed in their endeavors.
#1 - Beauty Salon Treatment Menu Card
#2 - Hair Salon Price List Menu
#3 - Salon Menu with Price List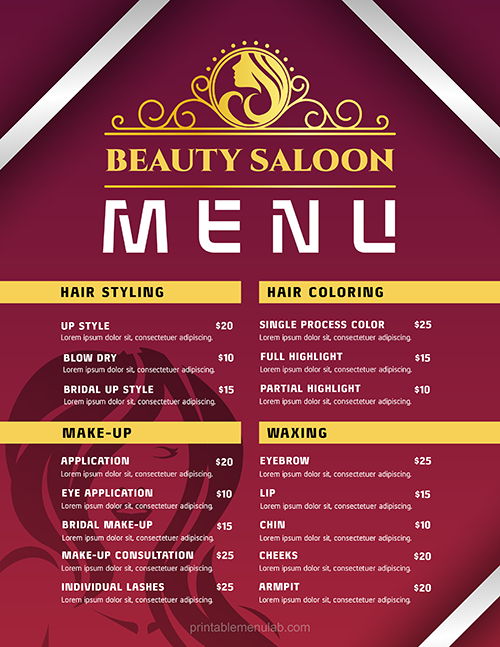 Salon menus can spark change
Many ladies and gents would be thinking of putting the services on the menu and the price to make it look more useful. But a well-crafted salon menu can do more than just offering details about the services and the relative prices. It can spark change and can let you attract more buyers. You need to add some attractive offers to spark the real-time change in the approach of customers. The salon menu templates can help you catch the eye of the buyer if designed to perfection. One will always be ready to buy more services if you are good at making value-added offers.
#4 - Services Menu Card
#5 - Spa Price List Menu Card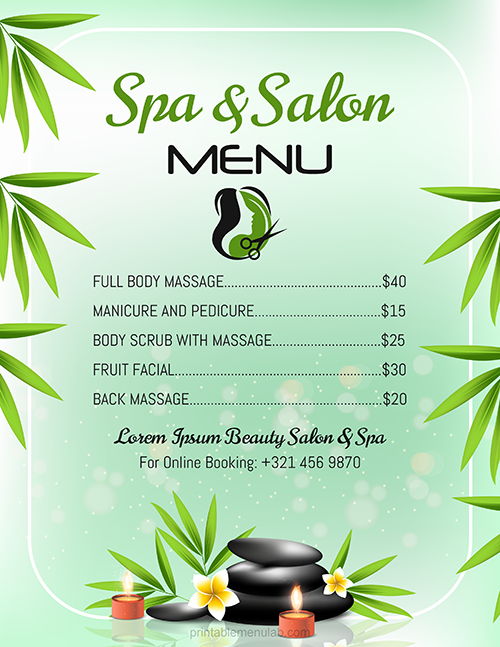 Points to ponder while drafting a salon menu
It would help if you had some goals in mind while designing a menu for your salon. But here are some points to consider while looking to design a salon menu. They will help you design some marvelous and even more helpful for your business.
Try offering services in a value-added manner. Add more price after adding additional assistance with the main service. It is also good to add technology-aided beautification services.

Provide references like real-time images of past customers. It is also good to offer celebrities reviews if you could get good remarks from a celebrity in the past.

Make sure you own all the images and other respective sample materials that you will present on your salon menu templates.

Keep your salon menu template up-to-date as it must only be offering the available services inside your salon. It must never be frustrating the customer by offering unnecessary or outdated details.

You can consider salon menu examples and templates before finalizing your draft. It will help you fine-tune your content appropriately.
One can draft a fine-class salon menu by taking care of the points described above. It will become easier to develop a workable menu by following all of these vital points.